Dental Implants – New City, NY
Bring Tooth Replacement into the 21st Century
Traditional dentures and dental bridges only bring back the parts of your teeth that you can see. As a result, they fail to feel quite as natural as the teeth you were born with. Dental implants bring tooth replacement into the 21st century by also recreating the root structure of missing teeth. When every part of your missing tooth is replaced, you end up with such a lifelike solution that even you might not be able to tell the difference! To learn more about this truly modern way to replace missing teeth, contact our team at Cosmetic & General Dentistry of New City to schedule your consultation to discuss tooth replacement with dental implants in New City, NY.
Why Choose Cosmetic & General Dentistry of New City for Dental Implants?
Skilled, Friendly Dental Team Treats Patients Like Family
Partnered with Local Oral Surgeons for Dental Implant Placement
Several Convenient Dental Payment Options Available
What Are Dental Implants?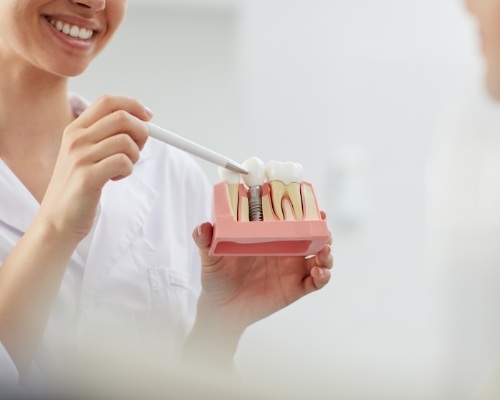 A dental implant is a small, biocompatible post that is placed directly into the jawbone during a minor surgical procedure. After fusing to the surrounding bone tissue, the implant behaves in much the same way as the root of a natural tooth. Depending on the number of teeth you're missing, implants can support a dental crown, bridge, or denture.
Compared to other tooth replacements, dental implants come the closest to replicating the look, feel, and function of your natural smile. That's why they're often Dr. Joel's and Dr. Dani's first recommendation for patients wishing to rebuild their smiles.
4 Step Dental Implant Process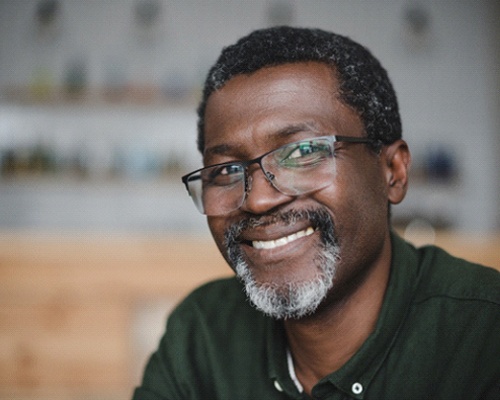 Getting dental implants is not something that can be done in a single visit. You can expect the process to take several months or even over a year, with the timeline for more complex treatments typically being longer. But even though you'll have to wait to fully enjoy your new teeth, the benefits that implants bring with them are well worth it! To help you get prepared for the implant process, we have outlined the four basic steps that each patient can expect to follow down below.
Initial Dental Implant Consultation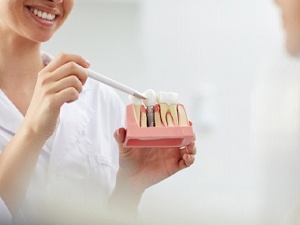 The initial consultation is where we figure out whether dental implants are the best option for you and, if so, what the process will need to look like. With our cutting-edge technology, we can determine whether you're eligible for implants right away or if you might need preliminary work like bone grafting or tooth extractions first. We'll put together an estimate of the timeline and the cost of your implant treatment before asking you to make a decision about moving forward with the process.
Dental Implant Surgery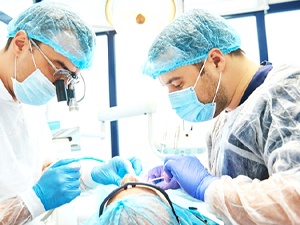 After all the preliminary treatments are taken care of, we can schedule implant placement surgery, which will be handled by a local oral surgeon. They will numb your mouth, create an opening in the gums, and insert the implants into the jawbones in pre-planned locations at precise angles. The gums are sutured shut afterwards, and a protective cap will be attached to each implant post. The cap both protects the implants and helps maintain the shape of your gums while your mouth is still healing.
Dental Implant Osseointegration & Abutment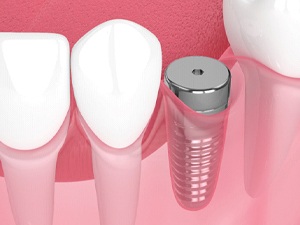 Dental implants traditionally aren't ready to support new teeth right away. First, they need to bond with the jawbone so that they can fulfil the same functions as natural tooth roots. The bonding process is known as osseointegration and normally takes about three to six months, although the number of implants and your body's personal healing abilities can affect the length. Once osseointegration has been completed successfully, abutments (small metal connector pieces used to attach prosthetic teeth to the implant posts) can be attached. This involves a second surgery, although this one is much smaller and will only take about 4 to 6 weeks to fully recover from.
Delivery of Dental Implant Restoration(s)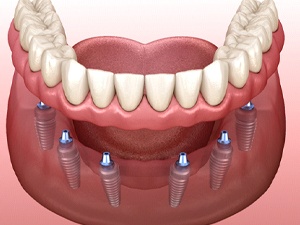 When it comes to implants, getting a restoration can mean getting a crown, a bridge, or a denture; it depends on how extensive your tooth loss is. We can design your restoration for you once your mouth has completely healed from the previous steps. A separate lab will create the final restoration and send it to our practice so that we can personally attach it to your implant post(s). If needed, we may make some last-minute adjustments to the shape and color of the restoration so that it's indistinguishable from your natural teeth once it's in place.
The Importance of Bone & Bone Grafting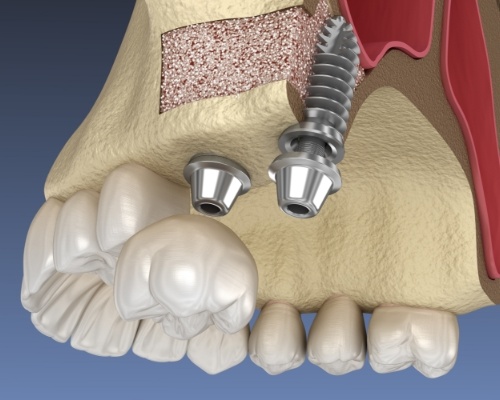 The roots of your natural teeth strengthen your jawbone through biting and chewing. When teeth are lost, the bone loses this stimulation and begins to deteriorate. Eventually, you may not have enough bone density to give dental implants the support they need. That's where bone grafting comes in. During this procedure, bone tissue from a donor is grafted onto the weakened area of your jawbone. After a few months, you should have enough healthy jawbone mass to help your implants thrive.
Benefits of Dental Implants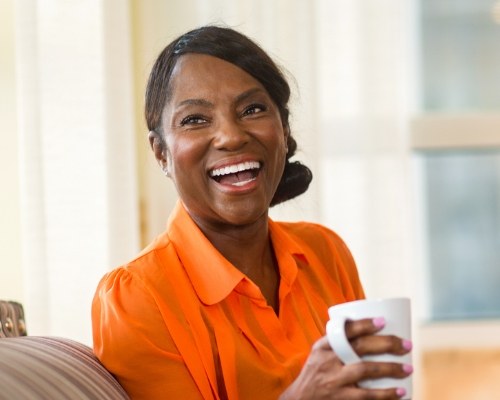 Once your dental implant treatment is complete, you can expect to enjoy the next best thing to your natural teeth. Because of its comprehensive structure, this method of tooth replacement is able to capture the exact appearance and function of the pearly whites you used to have. As a result, there are several unique benefits of dental implants in New City that you just can't get with traditional dentures or bridges alone. Here are just a few of them!
Day-to-Day Benefits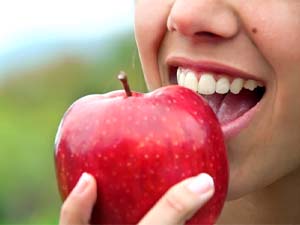 Since your new teeth will be firmly anchored in your jaw, you'll never need to worry about them sliding around. You'll be able to eat practically anything you want with ease! Plus, you can speak with total clarity, which may be difficult for people who wear loose or shifting dentures.
Having a gap-free grin makes it easy to show off your smile to the people around you. With an enhanced sense of confidence, you'll be more likely to be perceived as attractive, healthy, and successful!
Cleaning dentures can be notoriously time-consuming, but not with dental implants. Unless you choose a removable implant denture, your prosthetic teeth will remain in your mouth at all times. This means you can brush and floss them in exactly the same way as you did with your natural teeth.
Health Benefits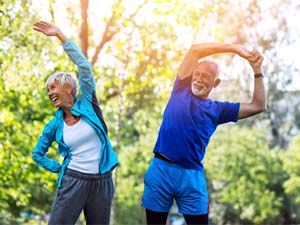 Unlike traditional dental bridges, dental implants don't rely on any of your remaining teeth. They can support themselves, so we don't need to modify perfectly healthy tooth structure.
When you have the ability to eat a well-balanced diet, you're less likely to suffer from nutritional deficiencies than denture wearers, who often have to forgo crunchy fruits and vegetables.
Because dental implants are easier to clean than dentures, you're less likely to leave behind food particles and bacteria during your daily oral hygiene routine. As a result, your risk of gum disease decreases significantly.
After a tooth's root is lost, the bone tissue in the jaw that once held it in place starts to deteriorate. The only tooth replacement that stimulates the jawbone like real teeth is dental implants. You can count on them to keep your jawbone healthy and strong enough to support the natural teeth you still have!
Long-Term Benefits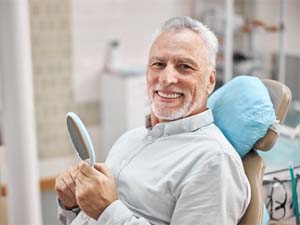 By strengthening your jawbone, dental implants prevent the tissues in your face from losing support and wrinkling or drooping. Therefore, you'll enjoy a youthful glow for many years to come!
On average, dental implants can last for 30 years, but with the right care, they could easily last for the rest of a patient's life.
Even if they seem more expensive at first, dental implants may be a more cost-effective investment than traditional options. This is because you won't need to replace your prosthetic as frequently (if at all), and you shouldn't have to purchase adhesives or extra cleaning supplies.
Who Dental Implants Can Help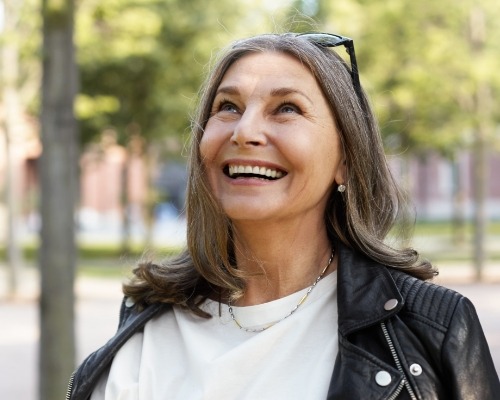 Are you a generally healthy adult who is missing one or more teeth? If so, then you'll be pleased to know that there's a good chance dental implants can help you! This treatment can be paired with virtually any kind of dental restoration to give you a complete smile no matter your degree of tooth loss. After we've examined your mouth at your consultation, we'll devise a treatment plan based on your specific situation.
Missing One Tooth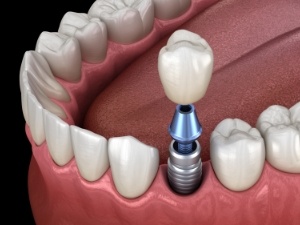 A single missing tooth can be brought back with one dental implant post paired with a personalized crown. This is a more conservative option than a dental bridge, which requires some enamel to be removed from two of your remaining teeth, leaving these teeth weaker over time. A dental implant can support itself, so there's no need to alter your natural teeth.
Missing Multiple Teeth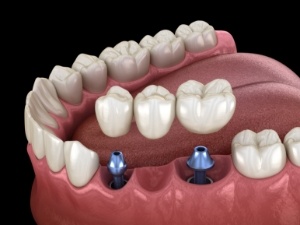 Just as a dental bridge can replace several consecutive missing teeth, so too can dental implants. Rather than inserting an implant for each individual tooth, one post can be placed at each end of the gap to support a bridge that doesn't rely on your remaining teeth. If you're missing multiple teeth at various locations in your mouth, then a small number of implants can be strategically placed to secure a partial denture.
Missing All Teeth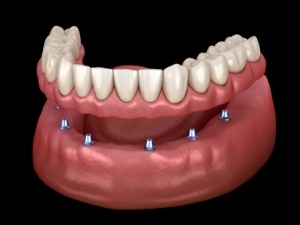 Even patients with no natural teeth left can benefit from dental implants. An average of four to six implants can be installed throughout the jaw to take advantage of the available bone density and anchor a full denture into place. Implant dentures avoid many common issues that patients have with conventional dentures. For example, implant dentures won't slip around, they make chewing easier, and they can be fixed in the mouth for a more natural hygiene routine.
Understanding the Cost of Dental Implants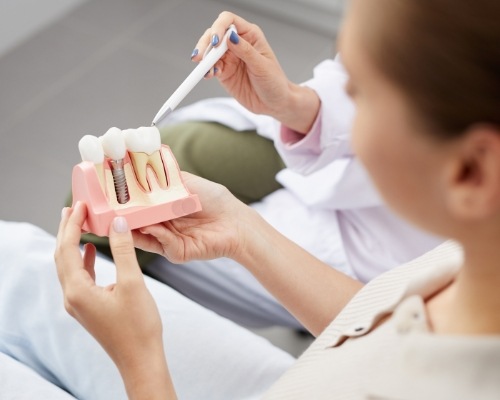 If you're tired of living with gaps in your smile, you may be thinking about getting dental implants in New City. No two cases are exactly alike, which means the overall cost of your new grin will be dramatically different from that of most other patients. At Cosmetic & General Dentistry of New City, we'll review all the factors affecting the price of your treatment during your consultation. We can also go over your payment options to ensure you can get the care you need without breaking the bank. To learn more about the expected cost of this tooth-replacement solution, continue reading or give our office a call !
Preliminary Treatments & Dental Implant Surgery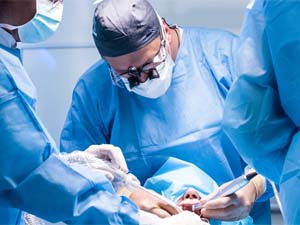 During your consultation, we'll conduct an oral examination to determine whether or not you're ready to move forward with the dental implant process. Some patients may need preliminary treatments like gum disease treatment, tooth extractions, and bone grafting. Although these will add to the overall cost, they're necessary to maximize the success of your new smile. Luckily, most of these services are covered partially by dental insurance.
It's worth noting that dental implant surgery has a cost of its own, influenced by the location of the surgical site and the type of sedation needed. We're partnered with local surgeons for dental implant placement, meaning you'll need to visit them to get an accurate cost estimate for your procedure.
The Parts of Your Dental Implant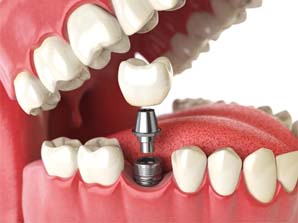 The total cost of getting dental implants in New City is affected by the following factors:
Number of implants. Logically speaking, replacing a single missing tooth with one implant will cost less than replacing several teeth with an implant denture.
Type of restoration. Crowns, bridges, and dentures all have different costs. Additionally, the smaller the restoration is, the more affordable it is.
Some implants are made of zirconia instead of titanium, which can affect the overall cost.
It may surprise you to learn that different manufacturers make dental implants differently to cater to the unique needs of each patient. Since the manufacturer you choose will affect the amount you end up paying, feel free to ask about where your implant is coming from and other brand-specific benefits.
How Dental Implants Can Save You Money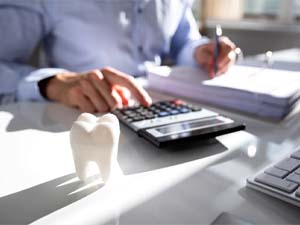 Even though dental implants are more expensive than traditional options like dentures and bridges, they're more cost-effective in the long run. You won't need to pay for a replacement every few years and there are no special products you have to buy for maintenance. What's more, since implants are easier to take care of, you can avoid issues like gum disease, decay, and infection along with the costs associated with treating them.
Does My Dental Insurance Cover Dental Implants?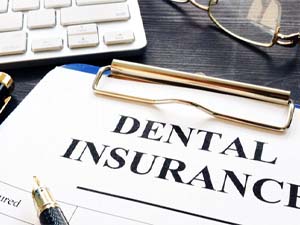 Most dental insurance plans do not cover dental implants. However, there are some exceptions. Certain parts of the final restoration or preliminary treatments may be eligible for partial coverage. Of course, it's best to contact your insurance provider to confirm the details of your plan. Our team is more than happy to help with this step if needed.
Making Dental Implants Affordable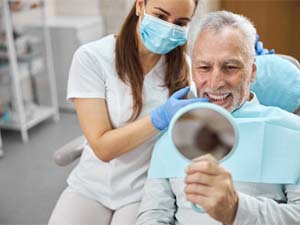 At Cosmetic & General Dentistry of New City, we offer additional financing options to help make your dental bills easier to manage, such as:
In-House Dental Membership Plan – For one fee, you can get regular preventive dental care and discounts on additional services like dental implants.
CareCredit Financing – This option allows you to split up the total cost of your treatment into smaller, budget-friendly monthly installments. It helps make even the most expensive dental procedures affordable!