Dental Implants – New City, NY
Bring Tooth Replacement into the 21st Century
Traditional dentures and dental bridges only bring back the parts of your teeth that you can see. As a result, they fail to feel quite as natural as the teeth you were born with. Dental implants bring tooth replacement into the 21st century by also recreating the root structure of missing teeth. When every part of your missing tooth is replaced, you end up with such a lifelike solution that even you might not be able to tell the difference! To learn more about this truly modern way to replace missing teeth, contact our team at Cosmetic & General Dentistry of New City to schedule your consultation to discuss tooth replacement with dental implants in New City, NY.
Why Choose Cosmetic & General Dentistry of New City for Dental Implants?
Skilled, Friendly Dental Team Treats Patients Like Family
Partnered with Local Oral Surgeons for Dental Implant Placement
Several Convenient Dental Payment Options Available
What Are Dental Implants?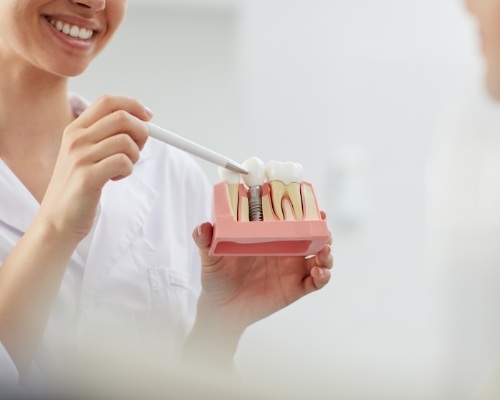 A dental implant is a small, biocompatible post that is placed directly into the jawbone during a minor surgical procedure. After fusing to the surrounding bone tissue, the implant behaves in much the same way as the root of a natural tooth. Depending on the number of teeth you're missing, implants can support a dental crown, bridge, or denture.
Compared to other tooth replacements, dental implants come the closest to replicating the look, feel, and function of your natural smile. That's why they're often Dr. Joel's and Dr. Dani's first recommendation for patients wishing to rebuild their smiles.
The 4-Step Dental Implant Process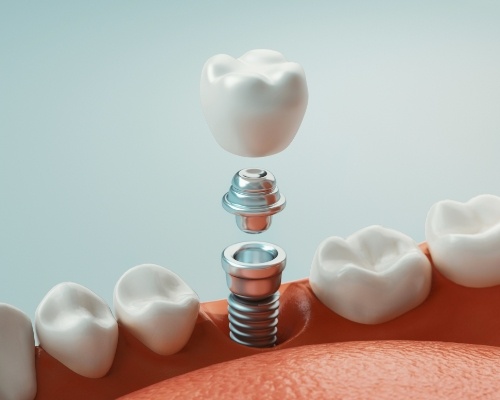 Due to their complex structure, the process of getting dental implants takes longer than it would for a denture or bridge, but the benefits are well worth it! Dr. Joel and Dr. Dani have partnered with the best dental implant specialists in the New City area to ensure that your care is of the highest quality every step of the way.
Every patient's case is slightly different, but the dental implant process involves four basic steps:
Consultation – You'll meet with our dentists to evaluate your candidacy for dental implants.
Surgery – One of our trusted specialists surgically inserts the posts into your jawbone.
Osseointegration – The implants merge with your jawbone over the next three to six months. Then, we secure abutments onto them that allow us to attach your replacement teeth.
Restoration – We install your customized dental crown, bridge, or denture on top of your abutments.
The Importance of Bone & Bone Grafting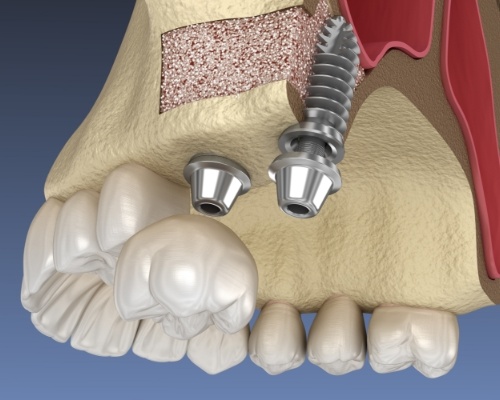 The roots of your natural teeth strengthen your jawbone through biting and chewing. When teeth are lost, the bone loses this stimulation and begins to deteriorate. Eventually, you may not have enough bone density to give dental implants the support they need. That's where bone grafting comes in. During this procedure, bone tissue from a donor is grafted onto the weakened area of your jawbone. After a few months, you should have enough healthy jawbone mass to help your implants thrive.
Benefits of Dental Implants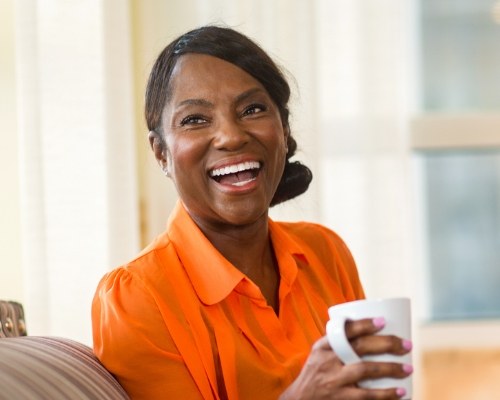 Once your dental implant treatment is complete, you can expect to enjoy the next best thing to your natural teeth. Their comprehensive structure means that dental implants can accomplish many things that traditional tooth replacements cannot. For example, dental implants can:
Restore almost all your original biting and chewing force.
Remain securely in place without the need for messy adhesives.
Look remarkably lifelike.
Be maintained with regular brushing and flossing.
Prevent your jawbone from shrinking after tooth loss.
Last for several decades – maybe even a lifetime!
Who Dental Implants Can Help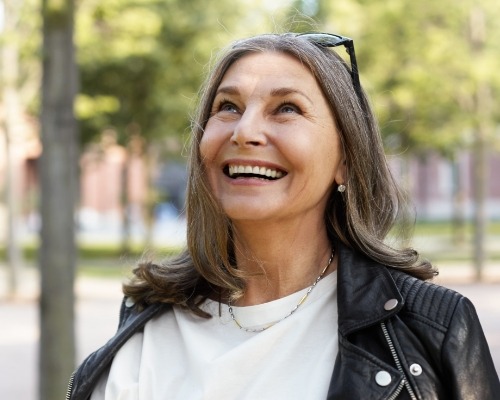 Are you a generally healthy adult who is missing one or more teeth? If so, then you'll be pleased to know that there's a good chance dental implants can help you! This treatment can be paired with virtually any kind of dental restoration to give you a complete smile no matter your degree of tooth loss. After we've examined your mouth at your consultation, we'll devise a treatment plan based on your specific situation.
Missing One Tooth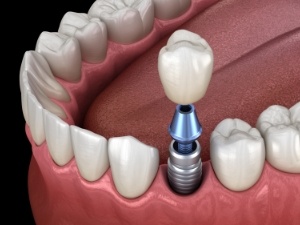 A single missing tooth can be brought back with one dental implant post paired with a personalized crown. This is a more conservative option than a dental bridge, which requires some enamel to be removed from two of your remaining teeth, leaving these teeth weaker over time. A dental implant can support itself, so there's no need to alter your natural teeth.
Missing Multiple Teeth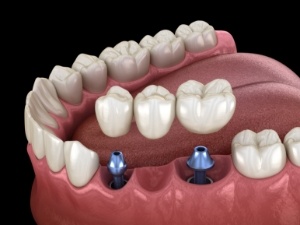 Just as a dental bridge can replace several consecutive missing teeth, so too can dental implants. Rather than inserting an implant for each individual tooth, one post can be placed at each end of the gap to support a bridge that doesn't rely on your remaining teeth. If you're missing multiple teeth at various locations in your mouth, then a small number of implants can be strategically placed to secure a partial denture.
Missing All Teeth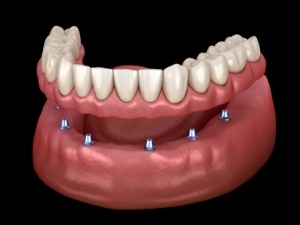 Even patients with no natural teeth left can benefit from dental implants. An average of four to six implants can be installed throughout the jaw to take advantage of the available bone density and anchor a full denture into place. Implant dentures avoid many common issues that patients have with conventional dentures. For example, implant dentures won't slip around, they make chewing easier, and they can be fixed in the mouth for a more natural hygiene routine.
Understanding the Cost of Dental Implants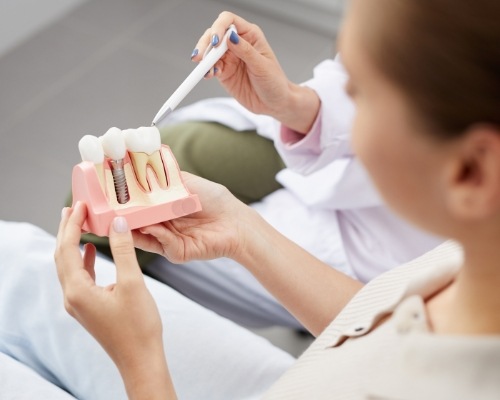 No two dental implant treatments are exactly alike, so the cost of your new smile will be dramatically different from that of most other patients. We'll review all the factors affecting the price of your treatment during your consultation. We can also go over your payment options, such as dental insurance, CareCredit financing, and our flexible in-house payment plans.